POWER FLUSH: FIGHT THE HARM CAUSED BY SLUDGE
Protect your central heating system & save money with a more efficient system!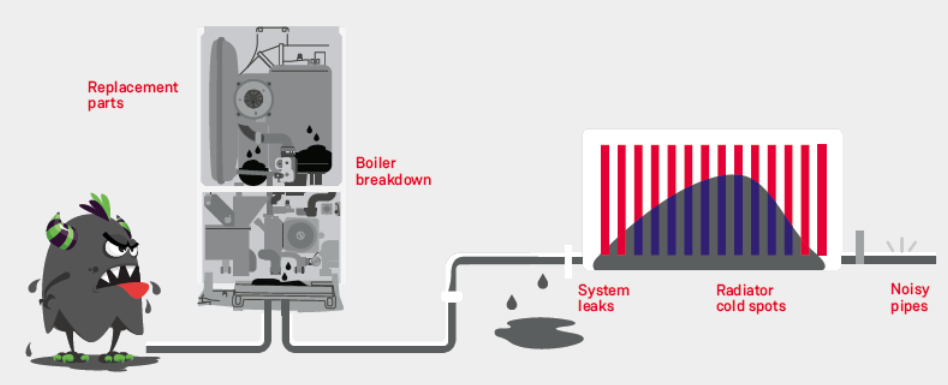 SLUDGE- WHAT IS IT?
Sludge is the number lcause of boiler breakdowns. It forms when corrosion builds up inside your home's heating system and settles in your radiators, causing massively inconvenient breakdowns and expensive repairs.
IT CAUSES COLD SPOTS IN YOUR RADIATORS
Sludge build-up could affect your home heating system, preventing your boiler from working efficiently. A sure sign of sludge in your system is cold spots on your radiator.
IT'S YOUR BOILER'S WORST ENEMY
Over 80% of boiler breakdowns in the first 5 years are caused by the build-up of sludge, clinging to parts within your heating system. These breakdowns are not covered by 9 million central heating cover policies.
SAVE UP TO £80 ON YOUR ANNUAL GAS BILL
When sludge builds up, your boiler has to work harder. That means you're using more gas than you need. However, you could save up to £80* on your annual gas bill by taking care of your system with a Magnetic filter.
THE FACTS
- There are 21.5 million Boilers in the UK

- 15% of Boilers Breakdown within the First Year

- 60% of Breakdowns are due to SLUDGE!

- 80% of all Boilers Breakdowns in the first 5 years are due to Sludge

- Boiler Breakdowns cost the UK £700m per year in unexpected Bills

- A Band a Boiler can move to Band E performance in a week if installed on to a system with high sludge levels
THE BENEFITS
- Reduce energy heating bills by up to £80 per year
- Reduce your household carbon emissions by up to 250kg a year
- Can improve radiator output by as much as 47%


- Extended central heating system life


- Premium Service- Increase Efficiency- Increase Comfort- Preventative vs Reactive- Reduce Call Outs
GIVE US A CALL & WE CAN TAKE CARE OF IT
We use thermal imagery to check your heating system & advise on the best possible course of action. Our fully qualified engineers will always provide the best solution based on facts & not guess work!

We annually check & maintain your heating system for sludge by carrying out the following checks...

1. Protective Inhibitor Levels
2. Corrosion Levels
3. Ph Levels

We do this by using Thermal Imaging Equipment & Water Test to check for potential problems.

HAVE YOU BEEN TOLD YOU NEED A POWER FLUSH?

Only by carrying out these tests can you determine if you need a powerflush or system cleanse.  
BEFORE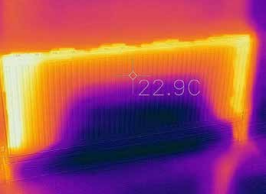 AFTER